Here at GreenArt we are committed to finding ways that we as a business can become greener and more environmentally friendly. So in 2019 we are renewing our commitment and exploring even more ways we can 'green' our working practices.
Some of the things we already do…
We encourage clients to consider drip irrigation systems for their garden schemes as they can reduce water use by 30-70% compared with conventional sprinkler systems.
We encourage clients to incorporate rain water harvesting systems. This can be something as simple as having water butts that feed from guttering on their home which can then be re-used by the client when watering their gardens.
We are able to manage the instalment of greywater collection systems (these collect waste water from baths, washing machines, sinks etc) where water is then stored in a tank which can then feed drip irrigation systems.
We encourage clients to foster wildlife friendly gardening practices like delaying perennial cut back to spring to support small mammals and amphibians in finding places to overwinter.
We encourage clients to consider weed management options that avoid the use of glysophate based weedkillers as we know these damage the bee population.
We can support you to develop composting and mulching practices in your garden.
You can also purchase wildlife products from our online shop HERE
Did you also know that when we remove green waste from your garden it is taken to a local waste processing centre Agrivert  where it is turned into compost.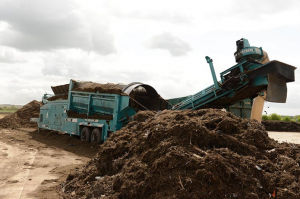 In our offices we already recycle office waste, but Jo taking this a step further by encouraging us to reuse un-recyclable plastic waste to create ecobricks
"An Ecobrick is a plastic bottle packed to a set density with used, clean and dry plastic to achieve a building block that can be used over and over again. Ecobricks can also be packed with other non-biological un-recyclables that, uncontained, are toxic to the environment (i.e. styrofoam, wires, small batteries, etc.). Ecobricks are used to make modular furniture, garden spaces, walls and even full-scale buildings".
To find how you can make an ecobrick watch this video https://youtu.be/RQoXtbJTvMs. The ecobricks.org website can also tell you where you can drop off your ecobricks locally so why not add this to your resolutions list for 2019.
If you have any other recommendations or ideas on how you would like to see us become even greener, why not let us know, or if you would like some advice on how to incorporate some of the ideas above into your own gardens, why not give us a call.
New products in the GreenArt shop
We at GreenArt can provide help at any level
From planning a wildlife garden, building hides, constructing ponds and streams, creating paths and planting trees and shrubs.