Join our team
Over the last eight years, GreenArt has established a reputation for creating beautiful gardens for homeowners across Oxfordshire and surrounding counties. To meet the increasing demand for our innovative designs and high-quality workmanship we are looking to develop our team with the addition of two new permanent landscaping roles:
TRAINEE LANDSCAPER
You won't need any landscaping experience for this role, just good common sense, a clean driving license and own transport, endless energy and enthusiasm to be part of a team that takes real pride in the gardens it creates. The job involves manual, often heavy, outdoor work in all weathers. Main duties will initially include mixing cement, digging, planting and handling building materials, as well as keeping the site clean and tidy. You'll learn from some of the best landscapers in the area as well as getting formal training in the use of equipment and in specific hard and soft landscaping techniques.
If you've been struggling to find the right career and enjoy working hard and having fun at the same time, this could be the job for you.
Salary £15,000 to £18,000 depending on experience.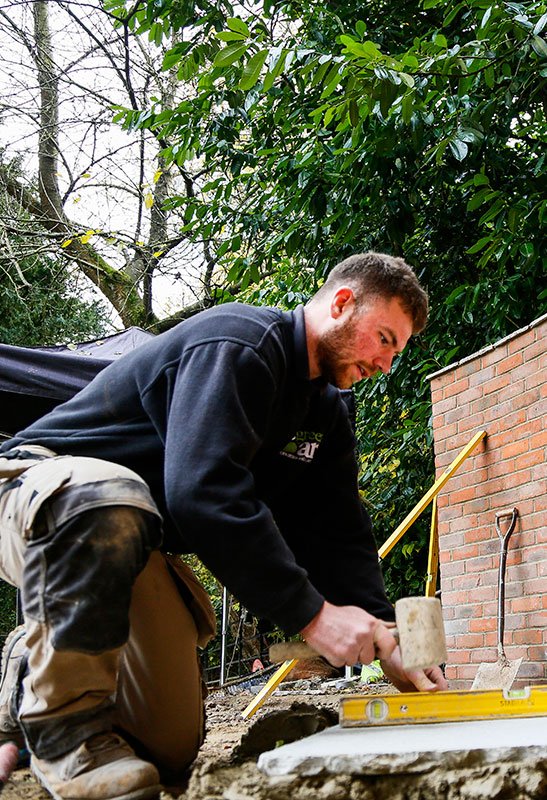 LANDSCAPE FOREMAN
You will need to have at least three years' experience of hard and soft landscaping and be fully competent in setting out sites, levels and foundations, laying paving, decking and timberwork. You will also need to demonstrate experience in the preparation and laying of turf, beds and planting. Experience of building brick and stone walls and water features would be an advantage as would good plant knowledge. You'll have plenty of opportunities to learn new skills as every project presents a new challenge. Formal training is also provided for specific technical or vehicle-related skills. A full, clean driving licence is essential as is own transport to and from site.
If you are stuck in a job that's going no-where but know you have more to offer and want to be recognised and rewarded for your skills and experience, then we would like to hear from you.
Salary £24,000 – £32,000 depending on experience.
Whatever your role in the business, you'll work 40 hours a week Monday to Friday, 08.00am to 5.00pm, at private homes within around 25 miles of Wallingford and get 20 days paid holiday and all Bank Holidays.
At GreenArt we take great pride in our work, so finding the right people to join the team is really important.
Please send a covering letter/email and CV to Jo Smith info@greenart.co.uk.