This weekend was perhaps the hardest and yet most satisfying in equal measure. I arrived on site and did a quick recce of the site and willow.
In an ideal world the willow would have been in tanks to soak fully but without that and limited access on site I have been agonising over whether or not the willow would be viable at each visit as it sat in buckets next to the pond. As I surveyed the remaining bundles the brown stems were looking dry and worse for wears in places, but there were a few sign of life and emerging leaves in the bundles, especially the yellow, and on closer inspection, as I lifted each bundle from their buckets, I was heartened by the hundreds of tiny roots that had formed around the bottom. I just love willow, it's amazing!!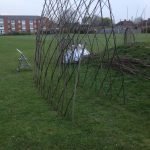 So bolstered by my discovery of life, I set about finishing the inside edge of the tunnel, adding the yellow again in curvy organic shapes.
After this I wandered over checked on the boat and found a lot of die off in the woven top. I have to admit to feeling somewhat defeated at this point as it was the one piece of the project that I actually thought I could call finished. A few hobnobs later I decided that the best thing would be to get creative and put in the arch and three willow tree sculptures in the hopes of getting my mojo back. I'm glad to report that this worked, and I started to feel much more positive and motivated to make the final push to finish.
When I returned on Sunday untied all the structures and stopped for lunch. Then it started to rain, heavily, so I worked on the boat up until the point I got really wet and cold and then I called it a day, excited to return on the 28th, with Max, for a site clear-up and to finally be able to say "I did it!".
We at GreenArt can provide help at any level
From planning a wildlife garden, building hides, constructing ponds and streams, creating paths and planting trees and shrubs.