As a Trainee Designer at GreenArt, part of my job is to work with our Garden Design team to create planting schemes for our clients. These can be schemes to refresh an existing area of a garden or as part of a completely new Garden Design.
I recently visited our local wholesale nursery Babylon Nursery  to source herbs for a customer's vegetable garden. Whilst there I took the opportunity to have a look around and see if anything in bloom caught my eye. Here's what I found that sparked some fresh ideas for planting schemes.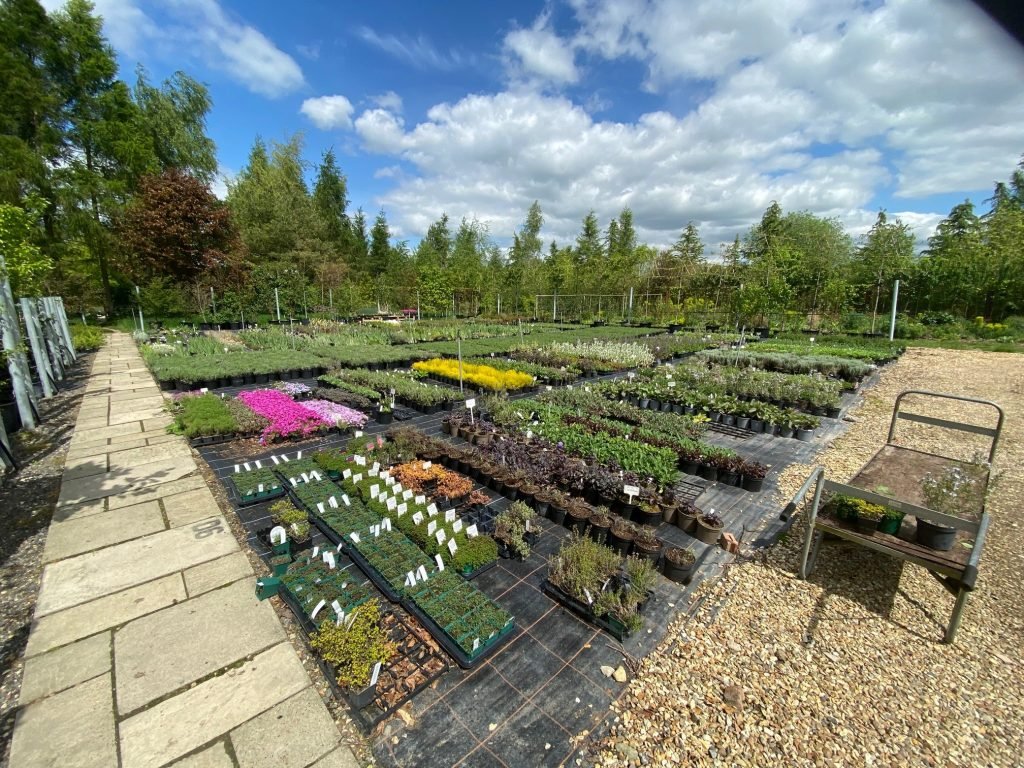 The Power of Perennials!
If you're looking to inject some moody colour into your borders, this Penstemon 'Midnight Masquerade' might just be what you're looking for.
Part of the beardtongue family, so-called because the stamen within each flower has a tuft of small hair. It is a compact, hardy perennial, featuring a rich display of lavender-purple flowers, blooming profusely in early to mid-Summer.
They are an extremely beneficial pollinator, easy to grow and fuss-free.
Beautiful Borders
We all love a beautiful garden border! And these 3 plants make great mid-border fillers and add a feeling of depth to any bed.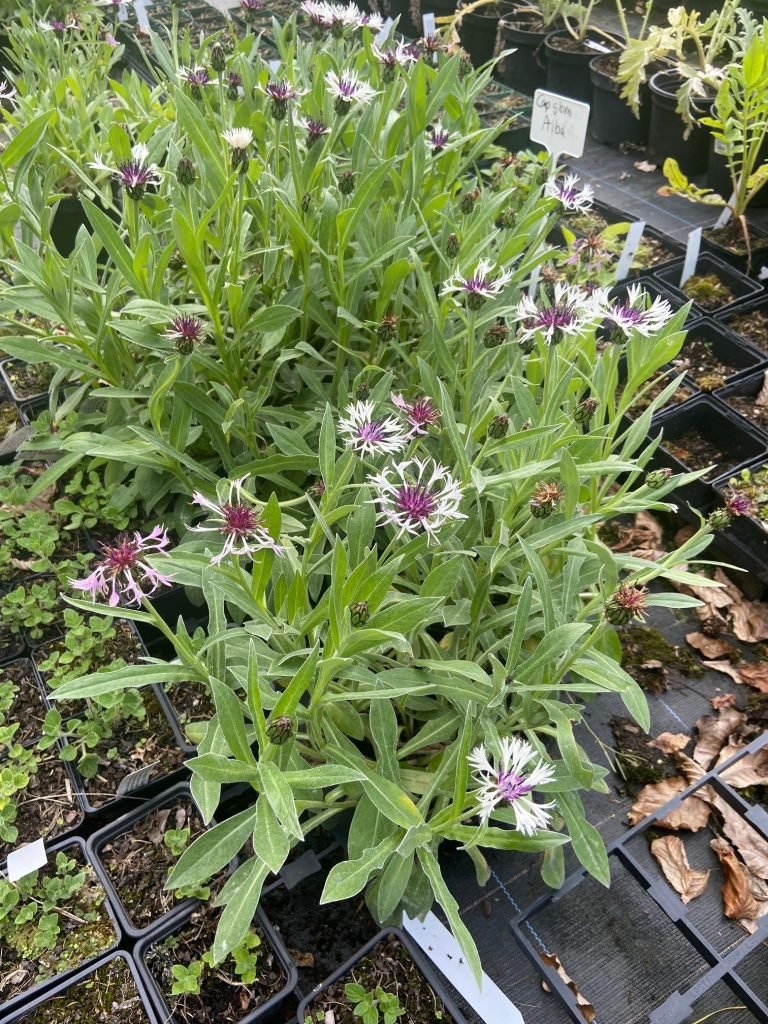 Centaurea's
Centaurea's are thistle-like in appearance, although the Centaurea montana 'Amethyst in Snow' variety pictured is more unusual. Rather than the more commonly seen Crimson blue, this plant bears a white flower, with a small purple centre.
Geraniums
Geraniums come in a huge variety of shapes, sizes and colours and always make a popular bedding plant. They're easy to grow and flower for months, making them a welcome choice for pollinators and a great contributor to succession planting. 
This 'Derick Cooke' variety has large saucer-shaped pink flowers with purple veining, with fresh green foliage, which colours beautifully in the Autumn.
Polemoniums
Polemoniums can be annuals or herbaceous perennials, with often upright habits and pinnate leaves and usually clustered, tubular, bell-shaped flowers.  The 'Lambrook Mauve' however is more delicate in appearance, with a neat mound of ferny foliage and sprays of pale lilac flowers. It holds a beautiful scent and will flower all through the Summer.
Yes to Yellow!
Not everyone is a fan of yellow, but if you are partial to this shade or fancy a change of colour palette in your garden, this Achellea 'Coronation Gold' and Thermopsis Lupinoide just might be for you!
Achellea's
The Achellea's striking feature is its flat, plate-like umbel, which stand tall above fern-like foliage. The 'Coronation Gold' is a particularly tall-growing variety, bearing golden-yellow blooms over a long period and makes for a fantastic cut flower.
Thermopsis
The Thermopsis is a lupin-like plant found in the wild from Alaska and Siberia, so is fully hardy. The stems are almost black, carrying narrow heads of pale lemon pea flowers. They are particularly handsome in late Spring.
Shade in the Summer
Selecting plants to suit a shady area can always feel like a bit of a daunting task, particularly when still trying to achieve some colour.
Tiarella's
Tiarella's love deep shade and the 'Spring Symphony' variety holds short upright spikes of delicate tiny star-shaped white flowers, rising up from deeply lobed green leaves. They're ideal for ground cover and are an ideal accompaniment with hardy ferns and hostas.
Heucheras
Heucheras make neat low mounds of foliage offering a wide choice of bold and exciting colours. Although they won't like complete shade, they are more than happy in partial or dappled shade.
They are easy to grow and very low maintenance, perfect for filling gaps between taller plants, providing colour all year around.
Gorgeous Grasses
Ornamental grasses are a fantastic way to add colour beauty and texture to your garden. There is a huge variety to choose from, offering rich shades of blue, red and purple.
With their soft, soothing sounds in the wind, they add a sense of movement and peacefulness to any landscape and need very little maintenance.
I hope this has given you some new planting scheme ideas to consider.
If my visit has inspired you in the way it has me, please get in touch to discuss adding some fresh ideas to your garden planting scheme.