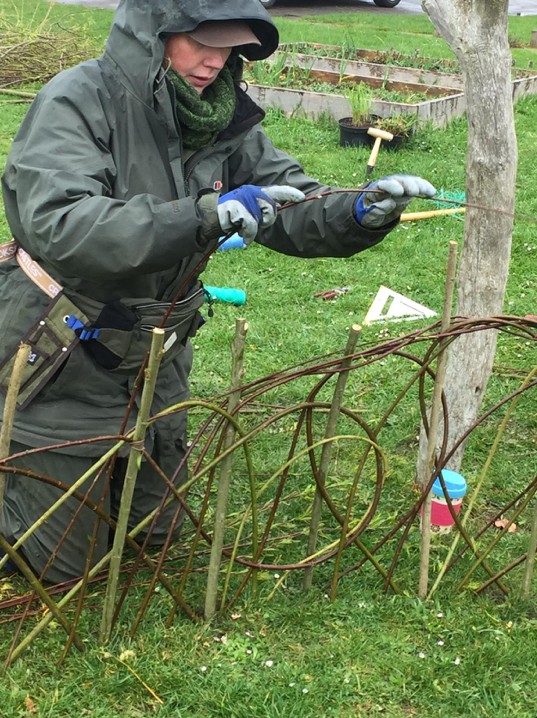 I started weaving living willow about 18 months ago on my allotment, after having my curiosity peaked by seeing structures like tunnels and dens when taking the kids to National Trust properties. With an accessible source in the Holybrook woods close to the allotments, I got permission to coppice from the local tree officer and off I went.
Wonderful willow
Willow is quite astounding from a growth and regrowth point of view. After coppicing (cutting back to ground level) or pollarding trees, a new tree can be grown merely by pushing a healthy cutting into the soil – even upside down! It's easy to see why it has come to symbolise renewal growth and vitality in many parts of the world.
Only a week or so ago I cut a stem to place in with my other plant cuttings. To aid routing, I tore the bark to allow it to leach its growth-aiding properties into the water and low and behold, it has itself started to grow roots as well.
Mindful of the moment
There is something very mindful about the process of cutting and weaving willow. You have to be in the moment and observant of which whips are in best health, length and thickness for the job. When it comes to weaving you need to concentrate on which way the willow wants to move without bending in two. I have to say, it feels marvellously creative and it makes me super happy to be able to do it as part of my role here at Green Art.
New products in the GreenArt shop
We at GreenArt can provide help at any level
From planning a wildlife garden, building hides, constructing ponds and streams, creating paths and planting trees and shrubs.