Following in the footsteps of Her Majesty the Queen's initiative to 'Plant a Tree for the Jubilee', GreenArt is also making 2022 The Year of the Tree. With the help of our customers and their gardens we have made a pledge to plant 2,022 trees over the next 12 months.
We all know just how important trees are for the planet as well as for our own well-being so GreenArt has made a commitment to make a positive impact by encouraging our clients to include native species of trees wherever possible in their garden design.
Trees not only provide oxygen, improve air quality and support soil and wildlife they also contribute to the environment over time through storage of carbon. The larger the tree and its biomass, the more oxygen it produces and the more carbon it is able to capture.

It's not just any tree though. Planting the ideal trees for the area that you live in will provide the greatest contribution to the environment. That's why we have identified our top 10 native trees that you can plant in your garden to support wildlife locally and the future of the planet!
Our Top 10 Native Trees
---
| | |
| --- | --- |
| English Oak – Over 300 species of insects plus many birds and animals depend on the oak. You need a big garden – but what a legacy! | |
| Willow (Caprea species) – Another tree for a big garden and very fast growing but great for the wildlife. Best by a large pond. | |
| Birch (Silver & Downy) – Insects, birds, winter interest, dappled shade – why wouldn't you? | |
| Hawthorn – The best hedging plant for wildlife and great firewood once it grows big enough to prune. | |
| Wild Cherry – Nice shape, spring blossom, insects and birds love it – ticks all the boxes. | |
| Hazel – Great for insects, birds and small mammals. Coppiced, it makes the ultimate walking stick. | |
| Poplar species (Black & White derived) – The tree if you want a big tree quickly. Good for insects. | |
| Crab Apple – Flowers and fruits, for you and for insects. Suits a small garden. | |
| Scots Pine – Big tree eventually good for birds and squirrels. Another great legacy tree. | |
| Alder – Water loving, likes damp, poor soil. Good for a problem corner. | |
---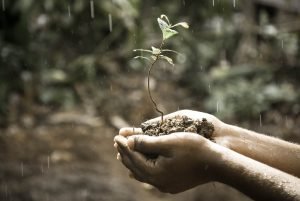 We need your help to plant trees!
2022 trees in 12 months is a big pledge, and we cannot do this alone! So we will be asking, and supporting all our customers in 2022, to not just plant more trees but also to specifically choose trees that best suit wildlife and the local environment.

As an added incentive we will be giving a range of discounts off the cost of the tree and giving away the 500th, 1000th, 1500th and 2000th trees for FREE!

We have identified 30 popular trees for wildlife and environmental value, and placed a sliding scale discount on these trees based on their value as a) a native species b) a food source for wildlife and c) their biomass/environmental impact.

So, native trees with good food source for birds and insects and high biomass will receive the greatest discount. The discount will range from 1% – 20% off the cost of the tree.

To find out more about our pledge and which trees qualify for the discount, please get in touch with Jo at GreenArt.