Whilst August brought our gardens much needed rain after the longest heat wave on record since 1976, September is proving to be unseasonably warm and dry. As the amount of water our plants need increases, so does the scarcity of water and this is only set to worsen over the coming years. Scientists predict that due to climate change, the risk of extreme heatwaves is increasing across the world.
So, as gardeners who understand that we are part of a much larger ecosystem across the country and indeed the planet, it seems we have a responsibility to consider how to future proof our gardens and green spaces so they are more tolerant of likely periods of drought ahead.
Water conservation
If you are having a garden designed now to enjoy next year, then its relatively easy to create a more drought tolerant, water-conserving green space, perhaps featuring a rain water harvesting system. In established gardens, however, water conservation can be more of a challenge. Recently, the Care and Development team here at GreenArt has been putting a lot of extra time into watering newly established trees and shrubs in the gardens we care for. In one garden we have started to see significant water run-off due to the gradient in the garden, resulting in water being potentially wasted, despite the trees having soil circles around their roots.
As with most gardens at present, lawns have also suffered in the intense heat and are looking somewhat brown and crispy, but in watering the trees there is now a triangle of grass from the tree base to a few meters away that has become lush and green. This triangle marks the site of water run-off from the landscape. Even if you dig down to the roots a little, to allow the water to filter deeper into the soil, there remains some run off. So, it got me thinking about how to make more effective use of the rainwater in the garden.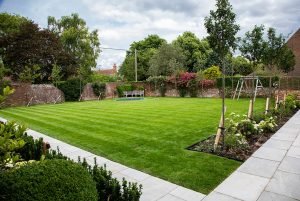 Permaculture gardening
In attempting to tackle this problem, I have been inspired by permaculture gardening ideas. Bill Mollison describes permaculture as a process of working with, rather than against nature. It is about observing your environment and the natural systems that exist and trying to work with these systems. So, in approaching water conservation for these trees, we are planning to dig swales close to these trees during the autumn and winter months. A swale is basically a ditch, dug into the contour of the land, to trap rain water to allow it to better penetrate the soil. I will update you how successful the swales are in the coming seasons. I will also no doubt return to the subject of permaculture in future blogs, as its gardening principles fit well with my own.
In the meantime, here are some simple water conservation ideas for your own gardens…
Drought tolerant plants
When selecting new plants or trees, or replacing ones that have died off, consider choosing more drought tolerant plants.
Here are a few suggestions to choose from…
For perennials consider Euphorbia, Echinops, Bergenia and Heuchera, for small shrubs consider Lavender, Hebe and Artemisa and for climbers consider, Jasmine or Passionflower. And as tempting as it is to buy fully grown plants to fill out your beds and borders, plants which have been grown from smaller specimens in your garden become more drought tolerant as they get used to the water levels available.
A quick internet search for 'drought tolerant plants UK' will also give you a surprisingly large list to choose from.
Mulching
When planting new specimens, you probably knew that adding fertiliser increases fast growth, however, this will also increase the plants need for water and make it higher risk from frost in the winter. Rather than fertiliser, consider adding organic matter to the soil as this will give better drainage and water retention.
Mulching is also a great way of increasing water retention in the soil. For those of you unsure of whether to mulch or not to mulch, the other benefits include root protection for winter months and, yes, music to my ears, less weeding. Types of mulch include spent mushroom compost, wood chips, processed conifer bark, leaf mould and garden compost, to name a few. To be effective a layer should be applied across the earth that is around 5-7cm thick.
Semi-permeable surfaces
Another good tip, I gleaned from Hampton Court Flower Show this year, was the clever use of gravel for water conservation. If you use gravel, rather than hard paving, around the outside of your house, then the water run-off from the house can better permeate into the soil. Where a hard surface is needed for a patio, for example, consider breaking up the area within the paving with gravel beds. This not only reduces the risk of flooding and encourages run-off to permeate back into your garden, but it can be a very attractive design feature.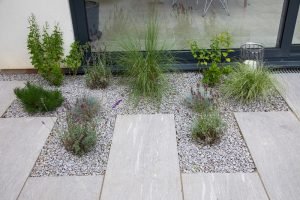 Grey water recycling
I mentioned this in my first blog, but it is worth repeating here, consider reusing grey water from your home. If you run a bath then don't let the water out, use it to water the plants in your home and garden. It is also worth remembering that soapy water is also a great relatively green treatment for an infestation of aphids and is hugely preferable to pesticides, for reasons I will expand when I write to you next.
So goodbye for now and enjoy the Indian summer while it lasts.
Jenny
New products in the GreenArt shop
We at GreenArt can provide help at any level
From planning a wildlife garden, building hides, constructing ponds and streams, creating paths and planting trees and shrubs.