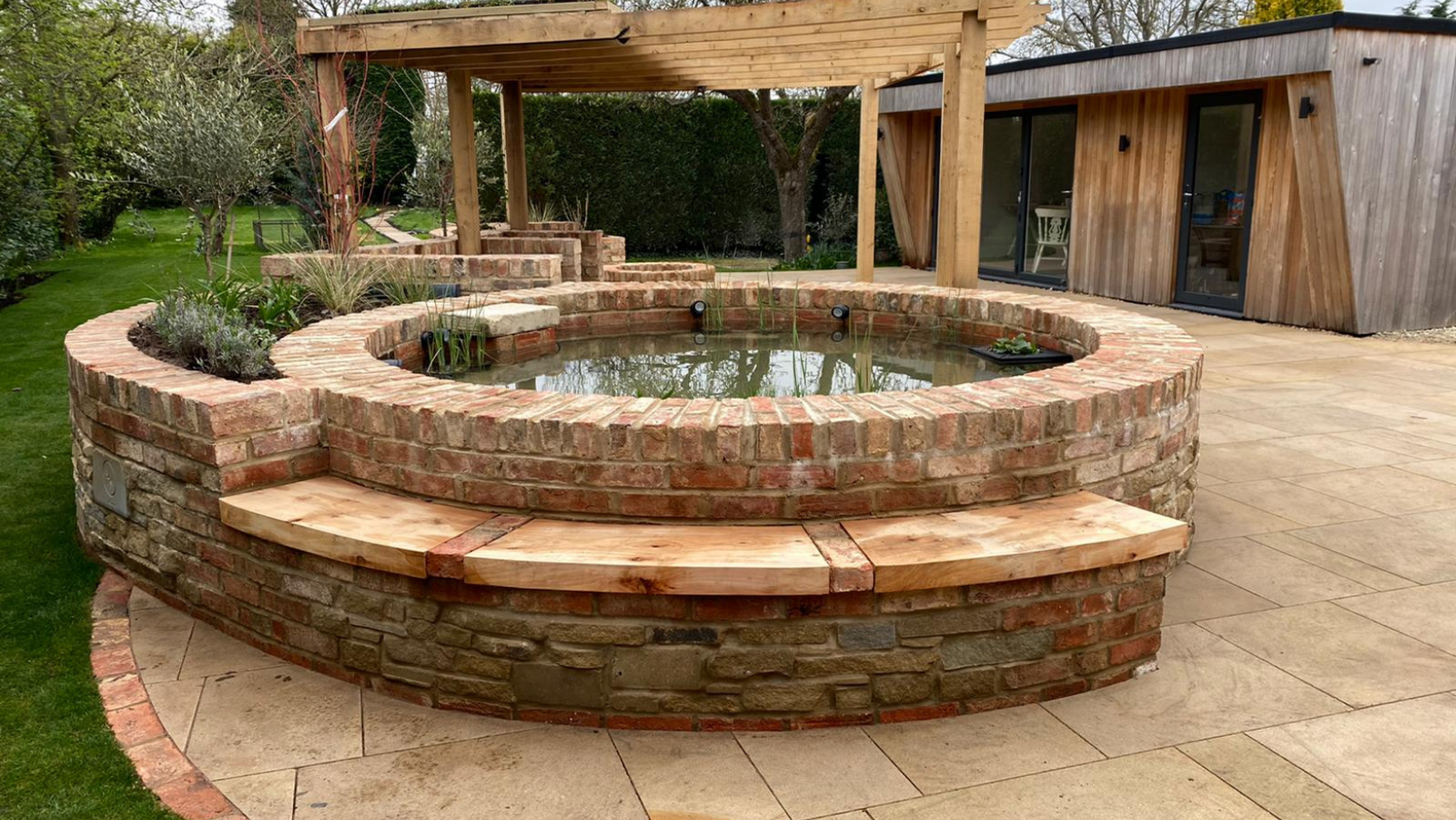 A Case Study: Why a new garden design was needed.
Steve and Jane came to GreenArt in search of a new garden design in the Autumn of 2021 after seeing the work of the Care & Development garden maintenance Team at another property in Benson.
They had lived in their 1930s' home for over 10 years, during which time they extended and fully re-furbished the interior, to create a family home that would see them into retirement. An outdoor office built in 2018 allows Steve to work from home, but the view into the garden from both home and office was uninspiring.
The 50m long garden was substantial and well-established but provided little visual stimulation when working from home, nor was it practical for entertaining or to have a place to relax in after work.
The garden design vision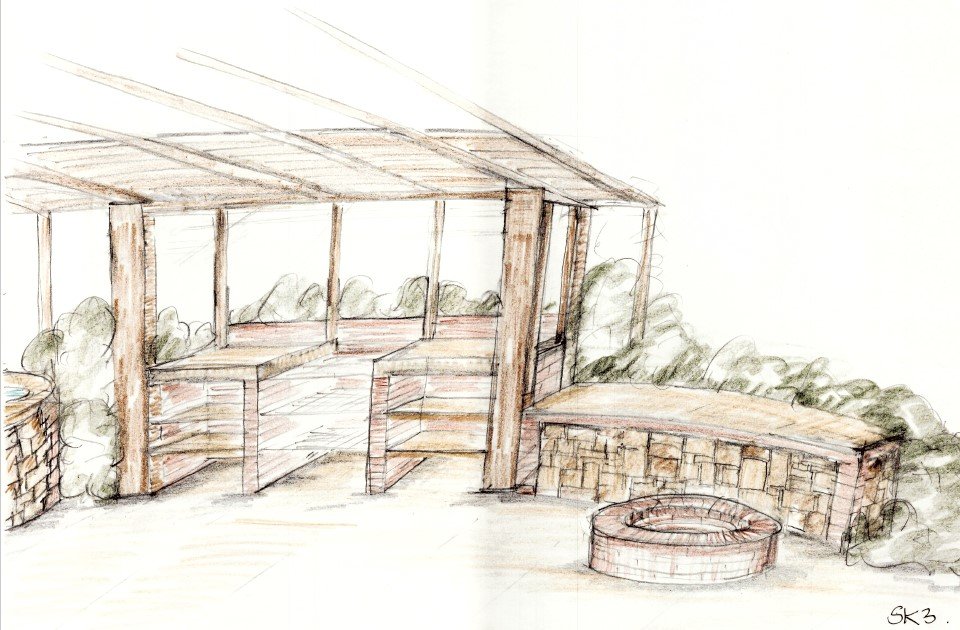 With good-sized space to work with, the first design challenge for GreenArt was to integrate the home-office within the garden without losing a feeling of openness.
Steve especially wanted to enjoy his garden while working within it, without having to worry about its upkeep and maintenance. He also wanted to be able to take a break and have a place to relax and unwind during the working day and evenings between the conference calls and sometimes stressful moments of his busy working life.
In addition, Jane, as an aspiring, keen gardener and now with more time in her life, wanted to be able to escape from her office in the house too at times, wander through green spaces and enjoy seeing new plants come to life throughout the year.
As a long-term investment to ultimately enjoy in their retirement the couple wanted their new garden to incorporate high quality, sustainable materials and craftmanship sourced locally, wherever possible.
How we built this garden
We started early in the New Year while the garden was dormant and before the birds started nesting. Our first job was to de-clutter the garden and remove old hedges, overgrown shrubs and redundant flower beds so that we could create more open space to work with.
We then had to break up and remove the old patio and raised beds. After that we were able to quickly lay the foundations for the main structural features of the design.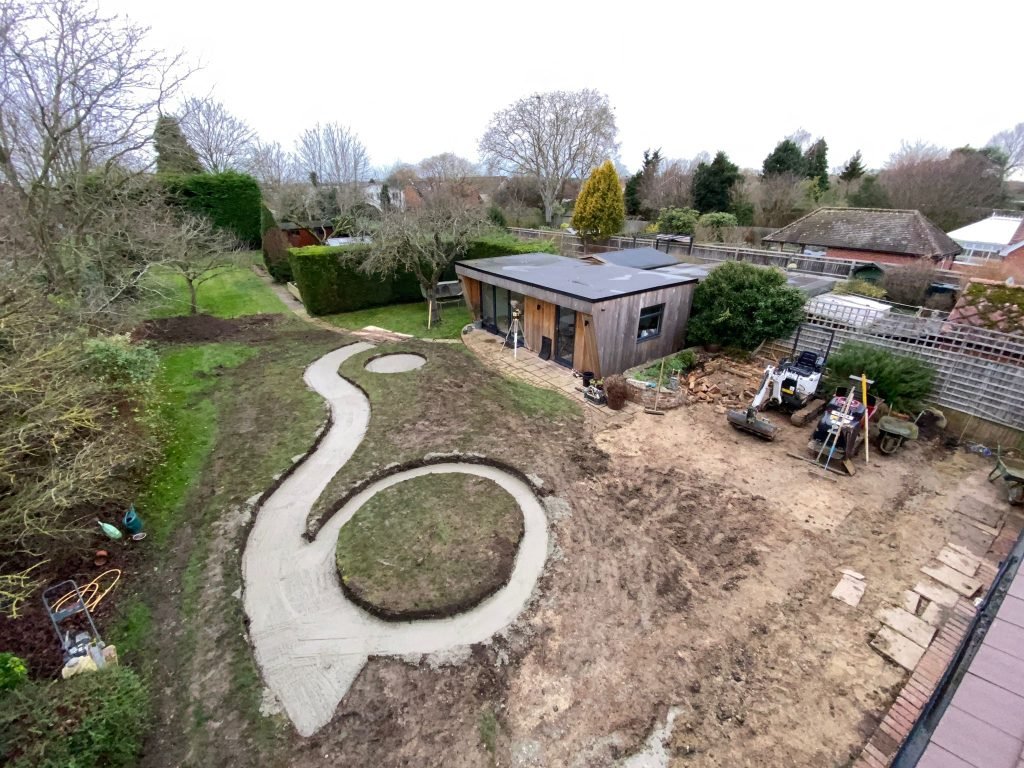 The design features
We designed this garden with a curved 'back-bone', which we then used to create the circular lily pond. This leads to the central kitchen/BBQ and seating area with raised beds around a fire-pit. Built using reclaimed brick, this area is inset with panels of Yorkstone walling for texture and interest.
Key to this garden design was the element of shade to provide a practical living space all year round. We achieved this by including a partially covered Oak pergola above the paving and kitchen area. The sedum roof allowed us to incorporate additional plant-life and therefore habitat for wildlife while alongside the pergola posts were planted with climbing roses and evergreen Jasmine.
Warm cedar bench seats wrap around the softly bubbling lily pond. Raised beds planted with lavender and grasses give plenty of opportunity to stop for a moment, relax and enjoy the tranquility and sensory experience of the garden.
Lastly we wanted to to enhance the illusion of length and space within the garden. We did this by laying the Yorkstone patio in lines across the garden, but shaped in curves. The paving then narrows to a path that leads the eye right to the end of the garden.
The results

"The whole experience and end result has been amazing," explained Steve and Jane "George has genuinely transformed our garden in a way we couldn't imagine. It actually looks bigger than it did before while feeling welcoming and calming. We believe it's going to make a really positive difference to the quality of our lives."
If you would like to transform your garden like Steve and Jane have done, take a look at our website for inspiration and book a consultation.