This is the first of a new kind of blog to add to my repertoire of the usual plant and garden job focused ones.
Today I'd like to introduce you to one of Green Art's Care and Development Team clients. This is Sue in her element in her beautiful cottage garden in Ewelme. I met with her to chat all things green on our recent monthly care visit to her garden.
Thanks for your time Sue, Tim and I love working in your garden as it is definitely a 'gardener's garden'.
For those of you who are curious about what I mean by that, simply that it's bustling with plants that show across the seasons and has a mixture of planned and self seeded elements and formal and more relaxed beds.
Jenny: Can you tell me how you got into gardening Sue?
Sue: I helped my mother in the garden, we had very heavy clay and it was hard work. Very different from the soil I have now!
J: What do you like to grow?
S: Spring bulbs, Snowdrops and Bluebells. I like the box hedge which we put in to screen hard landscaping which gives structure and looks good all year round.
J: My favourite features from Sue's garden are definitely the Incisa Kosu No Mai or shrub cherry. The abundance of climbers including a beautiful wysteria, Spring and Summer flowering clematis and climbing roses…and the lovely meandering grass path under the arches to the summer house.
J: Do you have any top tips for other garden owners?
S: Yes, 1) Be out there and love it!! And 2) a good tip I heard was that if you want all year round colour, then go to the garden centre and look at what is flowering each month and put those in your garden
J: What do you enjoy most about gardening?
S: Just being in it! Seeing what is coming up and the memories that certain plants evoke.
J: Can I ask, what do you think have been the benefits of having Green Art care team working in your garden?
S: It's joyous!! It is so hard to find a good gardener. We have a great team who are reliable and work with us, always asking "what would you like us to do today".'
J: Well Sue, we love working for someone who cares about plants and in such a lovely garden and we always look forward to the visits!
If you are interested in you and your garden featuring on my blog then why not get in touch at care@greenart.co.uk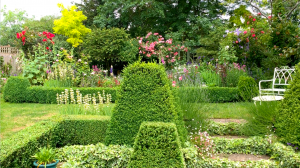 We at GreenArt can provide help at any level
From planning a wildlife garden, building hides, constructing ponds and streams, creating paths and planting trees and shrubs.