Over 10 years ago, the RHS noted the impact of climatic change on our lawns in their Encyclopedia of Gardening (2007). This year we have seen temperatures soar to dramatic highs and are no doubt still seeing the impact on the grassed areas in our gardens.
Whilst a lush green lawn may be the aim, you may be surprised to read that it is really important to give established lawns little or no water during drought periods. Lawns will turn brown during a drought and it would be easy to assume they had died. However, did you know that many lawn grasses go into a dormant phase during extreme heat and when it does rain again, as you are probably noticing, most lawns will recover well?
If you take the time to maintain your lawn once a year in the Autumn, then it is more likely to fair better when water shortages do hit. And as now's the time for us to undertake annual lawncare tasks in the gardens we care for, Tim thought it would be good to pass on a few more of his top tips, as he is the resident lawn expert in the GreenArt team.
Tim's Tip:
Whilst watering your lawn during a drought wouldn't be our best advice, carrying out annual lawn maintenance once the autumn rains return, would be. In Autumn your lawn's growth will slow down. It is important to raise the height of the cut during this time.
So, Tim, as someone not wholly familiar with lawn mowers, how do you alter the height of the cut?
It will be different depending on the type of mower you have, but most standard mowers will have a lever that allows you to raise the height of the blades.
What height would you raise the blades to in Autumn?
The height of the blades really depends on the contour of the lawn and also how you like the finish on the lawn as well. My top tip would be always start with having the blades higher and you can always lower them once you have seen the result of the mow you have done. Grass is a bit like hair, you can't put it back once it's cut!
Tim's Tip:
It is also important to apply a lawn fertiliser as part of your maintenance regime. Many suppliers provide lawn fertiliser, seed and weed killer in the same mix, making the application easy.
How is the best way to apply weed, seed and feed to a lawn?
I would recommend using a rotary spreader as this makes the job easier and a lot more effective as you get an even spread. If your lawn is a major feature in your garden, this is a good piece of equipment to invest in.
Tim's Tip:
Aeration is the process of reducing the soil compaction and thatch in a lawn to encourage new grass and deep root growth. There are various ways to aerate a lawn, one of which is scarification. Scarification is the process of removing thatch which allows air to enter the surface of the lawn. This is important as the soil organisms which help to break down the thatch require air to survive.
What type of machinery do you use for scarifying and aerating a lawn?
Well, that largely depends on the lawn, the contours and the size of lawn you are maintaining. For small lawns, you can use a spring-tined rake to loosen thatch and remove dead moss. For larger areas of lawn, you can use a mechanical or powered scarifier, which you use similarly to a mower. My best tip would be to consider applying a moss killer the week before you plan to scarify the lawn. This helps the process of as the moss/thatch becomes easier to remove.
Tim's Tip:
There are a range of other processes for aerating turf including slitting, spiking, hollow tining or coring. They all perform a similar function of allowing air into the soil, encouraging root growth, reducing soil compaction and once you have finished with aerating the lawn, it is important to consider top dressing your turf.
What exactly is top dressing?
Top dressing is the process of adding a mixture of soil, sand, peat or leaf mould to the surface of the turf once it has been aerated. When worked in, the mixture fills core holes and helps to level the surface. It should also support the soil organisms to be able to do their job in reducing the thatch going forward. Unlike aerating, top dressing turf is best done on a dry day.
Annual lawn care can be a big job for larger gardens, even small lawns are hard work to maintain effectively. Luckily, as always, Tim and I are more than happy to come and carry it out for you! We can also carry out ongoing lawn care like mowing, strimming and edging or we can even come and lay a new lawn for you. We don't do a bad job really do we?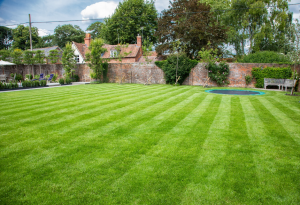 Well, again, I would like to thank Tim for being with us and sharing a few gems about lawn maintenance and say to you all, happy gardening and take care until we meet again.
Jenny
New products in the GreenArt shop
We at GreenArt can provide help at any level
From planning a wildlife garden, building hides, constructing ponds and streams, creating paths and planting trees and shrubs.