Ten Flowers & Shrubs That Will Thrive In Our Soil
GreenArt's base in South Oxfordshire is an interesting and quite varied place to create and establish Gardens.
The starting point for all gardens is the soil. Along the Thames, the soils are silty, deep and fertile. On the slopes of the Chilterns and the downs, the soils are thinner with clay, flint and chalk and, as a result, are often high in pH. Contrary to popular belief that many garden plants demand lime-free soil, more species actually thrive on alkaline conditions rather than dislike them.
Like all gardeners, at GreenArt, we have our favourites and these feature in many of our gardens. Here is our list of 10 Star Performers that we recommend:
10 STAR PERFORMERS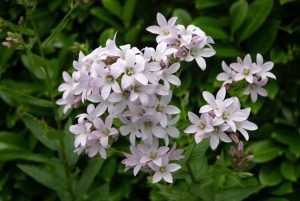 1) Campanula Lactiflora 'Loddon Anna'
Photograph courtesy of Wouter Hagens
This is one of a large group of "bellflowers". It is tall, reliable and easily grown – a perennial plant with soft lilac/pink blooms in the summer.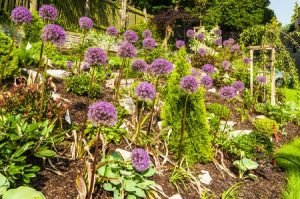 2) Allium Christophii
One of the most spectacular and reliable alliums, the Allium Christophii features pink-purple globe flowers in the summer.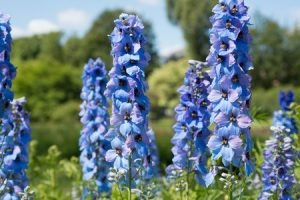 3) Delphinium "Blue Bees"
The Delphinium "Blue Bees" with its striking ice-blue display often flowers twice on its tall wiry stems.
4) Milium Effusum Aureum
Photograph courtesy of Gustav Svensson
This is one of the brightest and attractive ornamental grasses, providing soft and gold punctuation in any border.
5) Geranium Sanguineum "Max Frei"
Photograph courtesy of Andrey Korzun
The Geranium Sanguineum "Max Frei" is a deep magenta herbaceous geranium that flowers right through the summer from hummocks of deeply cut evergreen leaves.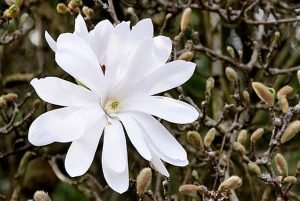 6) Magnolia Stellata
Photograph courtesy of Myrabella
The Magnolia Stellata produces beautiful white star flowers on bare wood in spring. It is happiest in clay soils. The smallest Magnolia rarely grows beyond 2 metres high and definitely deserves a place in any garden.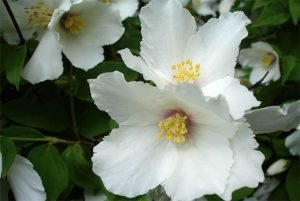 7) Philadelphus Virginal
Photograph courtesy of "Epibase"
In a sheltered spot, this unassuming deciduous shrub produces the most fantastically intense perfume, particularly on a summer evening. You will want to leave the windows open and fill the house with its strong aroma.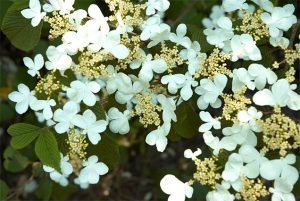 8) Viburnum Plicatum 'Mariesii'
Photograph courtesy of Wouter Hagens
This great, wide-branching deciduous or semi-evergreen shrub has layers of white fragrant flowers in late spring, sometimes followed by red blue or black berries and then provides great autumn colour. Give this one space in your garden.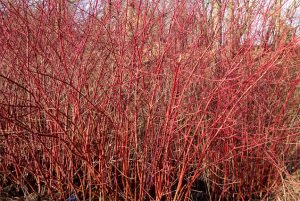 9) Cornus Alba Sibirica
Photograph courtesy of Anneli Salo
There are many similar varieties of Cornus Alba Sibirica with its bright lipstick-red stems in winter. All of them do well in the wettest soils so, if you have a flooded corner, this shrub will cope.
10) Roses Most varieties of rose actually thrive in clay soils and many will be happy on chalk – as long as they are fed regularly as roses are greedy plants! With hundreds to choose from, it is difficult to pick.
However, we like Gertrude Jekyll (main picture) for its pink scented rosette flowers and Madame Alfred Carriere (pictured above) for its yellowy-white scented blooms.

We hope you like our choices. As ever with design projects, the devil is in the detail! So, if we can help you with your next garden design project, please feel free to contact us!

Please contact Jo or George on 01491 280447 or email info@greenart.co.uk.