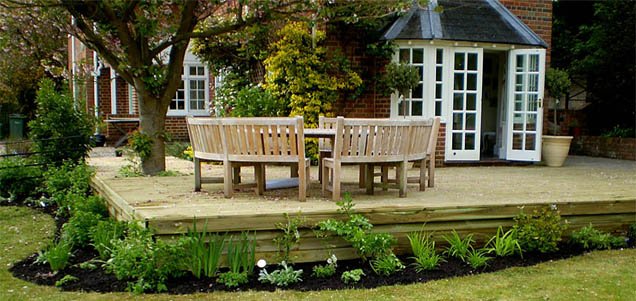 2016 sees the celebration of 300 years since the birth of possibly the greatest British landscape designer; Capability Brown. It also sees domestic garden design at a fascinating point.
Brown's style came from two practical principals; comfort and elegance. Today, these principals still feature on many a garden wish list, often translated into "a nice place to sit with colour and interest". However, these days low maintenance is increasingly cited, alongside supporting wildlife and the environment.
The RHS Chelsea Flower Show is a great way to gather inspiration for garden design and I will watch with interest to see what trends appear from its midst. From my vantage point just a few miles from Blenheim Palace, one of Capability Brown's most significant projects, the most prevalent trends for 2016 are not new – more extensions of ideas that have been around for a while.
Photo courtesy of www.gardenlodges.co.uk
Inside and out
The first is the merging of inside and outside; the flow from the house to the garden using the same materials to create an extension of the home outside. We're seeing a real increase in demand for outdoor kitchens, garden gyms and garden offices as testament to this. Whether this involves new, purpose built buildings or dedicated open garden areas depends on the scope and ambition of the project (or client).
Not only new, but also older, existing re-purposed structures can form part of the extension of the home to outside. The Grottage is the latest conversion of the often redundant, cluttered garage into a garden room that can be a clever, low cost alternative to a purpose-built building.
Go natural
The other big trend in garden design that we're seeing revolves around the increasing demand for locally sourced fruit, veg and produce. Growing your own for your outdoor kitchen is the natural fusion of the two trends as well as a way to enhance the environment by attracting insects for pollination and natural pest control. Many people are also waking up to the importance of the health of their natural environment. The need to protect and enhance the wildlife within that environment goes hand in glove with growing your own healthy produce and living as much as possible in the great outdoors.
Bold colour
Colour in 2016 seems set to be bold. Bright blue Delphiniums, strong red Dahlias and deep purple Hydrangeas will all be popular and will feature in many of our designs this year. Interestingly all of these plants are considered 'old fashioned' plants that are making a comeback. Bold colour is great but it does need to be carefully planned to ensure it punctuates without jarring.
Organic shapes
Sleek straight lines and geometric shapes appear to be giving way to organic shapes and sweeping curves – one trend that gets my vote. In most cases, houses and gardens do not relate to each other proportionately to allow angles and straight lines to flow without compromise and without creating awkward left-over spaces. Curves can make the best use of a smaller space as well as break up a long thin garden effectively.
As with all trends and fashions we can cherry pick to create the unique combination that suits each individual circumstance. The site, the size and, most importantly, the requirements of the owner mean every garden is, and should be, different. One (almost always the vital one) common denominator to all successful gardens is good, analytical garden design. At GreenArt we produce great gardens, but they all start on the drawing board.
Call us today on 01491 280447 for your free consultation and start the ball rolling for your 2016 trend-setting garden.