Whether it's a classic or modern look you are wanting to achieve, we can help you find the perfect pot or planter when designing your garden with GreenArt.
Here are just some of the pots we can source when designing your garden.
Giant Plate
For those looking for a pot or planter to suit a more contemporary setting, the modern sleek style of the shallow bowl-shaped Giant Plate garden planter is ideal.
This pot suits both a specimen tree such as an Acer, as well as your favourite shrubs or flowering perennials. A stylish yet versatile pot to consider for your garden design.
Ironstone Tinaja Garden Pot
For a more classic style jar planter with broad shoulders and a curved rim, the Tinaja Ironstone is the ideal choice when designing your garden.
Finished with a weather-beaten patina, Ironstone planters will complement the brick, stone or timber of your home to create a striking effect.
These pots are the perfect partner for a single stemmed specimen tree, and stunning  as a pair when used to frame an entrance.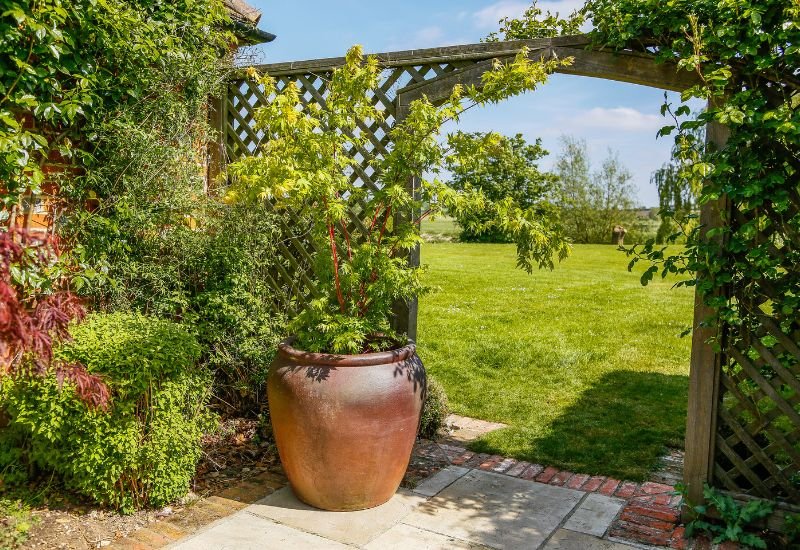 Fibrestone Chelsea Trough Garden Planter
When designing your garden, a planter like the Fibrestone Chelsea Trough is ideal for dividing a terrace or creating a boundary for an outdoor space.
A large pot like this will provide plenty of space to plant your favourite shrubs and flowering perennials throughout the year.
The grey lead-effect finish makes it versatile for planting as it provides the perfect contrast to bold coloured foliage or traditional evergreen shrubs.
Terracino Bay Tree Square Garden Planter
The consistent colours and vibrant tones of the classic Tuscan styled Terracino planters provide a great all year round look to complement your garden design.
Ideal for displaying a feature tree, such as the Olive, these planters work well in both informal and formal settings.
Inspired to upgrade your garden design?
Contact us or give us a call on 01491 280447 to book your initial garden design consultation.