When you think of containers in the garden, it's easy to think small; terracotta plant pots with herbs, a glazed pot for a special rose perhaps or maybe a wooden trough with pansies and primroses. So often pots are an after-thought or late addition to the garden given as a gift that then has to fit in with what's already there. Just as you would think carefully about the accessories for a new kitchen, or soft furnishings in a living room, choosing containers and the plants to fill them can make all the difference to the look and feel of your garden and really add the Wow factor. In fact in a small garden containers can be your starting point to create key points of interest, provide colour, texture and structure as well as being a time-saving or low maintenance solution for reluctant gardeners.
Imagine a newly-built home with a garden consisting of nothing more than a lawn and a patio; effectively a blank canvass. Creating a high impact, contemporary feel can be achieved quickly and easily with the addition of large, sleek containers positioned along two or three sides of the garden and planted up in a colour scheme to reflect your taste and the effect you want to achieve. To make your garden a true extension of your home, containers can be used to continue a colour theme from inside to out or to provide a contrasting feature to complement muted tones. If you can't find the colours you want in the plants themselves, then why not use a coloured container instead? Or use highly polished stainless steel to reflect the colours of your garden and give the illusion of even more space. If you're not sure what plants will work best in your containers, then this is where professional garden design can help. And if you really don't feel like choosing or filling the containers yourself, then you can leave that to the professionals too. You can choose to make either the plants or the containers the stars of the show.
Container are also a very flexible way of gardening. If you fancy a change or want to move your plants around, perhaps if you're having a big party or have had a new addition to the family, it couldn't be simpler. Deep troughs about the height of a bench are a perfect solution to crawling babies or mischievous puppies; the whole family can enjoy your garden in the knowledge that delicate or even spikey plants are out of reach of little fingers and paws.
By incorporating seating over or between large containers you can still get close to nature, but without having to get on your hands and knees. It also makes weeding and general maintenance easier on the back as you don't need to bend over far and most jobs can be tackled with a hand trowel or hoe. It's also very easy to incorporate a self-contained water feature to create a really dramatic focal point in the garden. Water can be bubbled over pebbles in a wide, shallow bowl or pumped out of a letter box spout in a curtain down a stainless steel wall.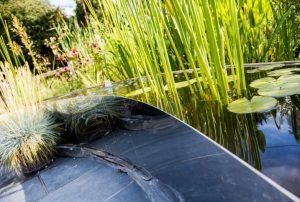 If you have always loved or wanted to have a certain plant or vegetable in your garden but were unable to because of the type of soil it needs, a container could be the answer. If you want to grow shrubs that like acidic soil like Azaleas, Rhododendrons or Camellias but you have heavy clay in your garden you can create the perfect environment in a container. The same is true of you love drought tolerant plants like Olives, but have wet and poorly draining soil. A container will allow you to keep it in full sun during the spring and summer and move it to a more sheltered spot for the winter.
Although you will need to keep containers well-watered with good drainage, maintenance can be kept to a minimum. By starting off with an appropriate compost, ideally with some water-retaining material within it, little and often is usually the best advice. Adding pebbles as a mulch is a great way to suppress weeds and retain moisture as well as adding additional colour and texture. If you are likely to be away for long periods of time then you should consider investing in a timed irrigation system rather than having to rely on the goodwill of your neighbours, friends and family. Most plants will benefit from regular feeding and periodically changing the compost to ensure plenty of nutrients are available to growing plants.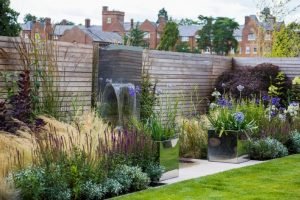 So whether you are a reluctant gardening looking for an instant wow factor or an experienced gardener looking to grow something special, large feature containers could be the answer.
If you'd like to find out more about how containers can add the wow factor to your garden, give us a call on 01491 280447 or email info@greenart.co.uk