Day one on site begins with a briefing with the client and a chance to 'walk the course', assess the ground and any potential changes to the environment as a result of the recent Storm Doris. The plan outlines a pond approximately 40m x 35m with a maximum depth of up to 1.8m.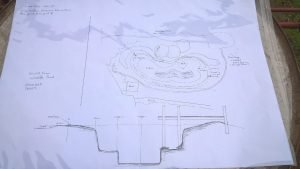 First job is to remove some branches and tidy up a couple of Crack Willows and clear a stream that was choked up with vegetation and fallen trees. We've brought in a team of local tree surgeons for all the tree work.
Once the tree work is done, we start marking out ready for the first phase of excavation work to begin. It's been a beautiful day and we've been watching kites circling and blue tits flitting amongst the willows. I may have even seen a lesser spotted woodpecker – but maybe I was just feeling lucky!
Looking forward to creating something really special here.