by Jo Smith
/
on 27th January 2017
/
in Blog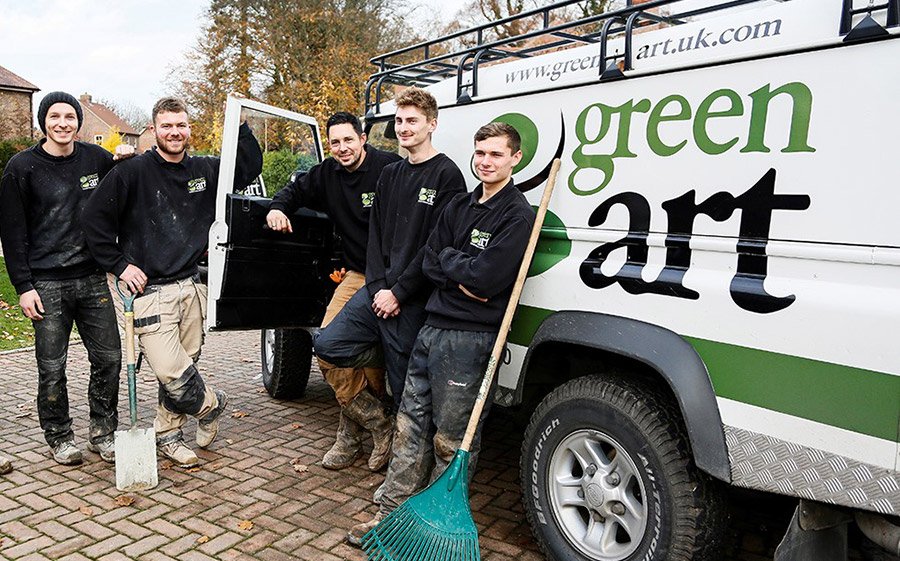 As part of our plans to grow GreenArt and make it the best garden design and landscaping outfit in Oxfordshire, we've welcomed two new members to the team this month; Luke as a Trainee Landscaper and Suzy as Operations Support Administrator. We'll let you know how they're getting on once they've had a chance to settle in. In the meantime, we thought we'd introduce John who joined us last year. John shows that you don't have to have any experience to join our team, just a positive and enthusiastic attitude, willingness to learn and work hard.
After completing his GCSEs John stayed on at 6th Form for a year before completing an Apprenticeship as a Gym Instructor in Bristol. As there was no full time work available in this role at the time, he went to work for Waitrose, initially just on a temporary basis.
Before he knew it, he had been working at Waitrose for several years. Once he got his driving licence he decided it was time to expand his horizons. He'd been responsible for looking after the Fruit and Veg section and had developed an interest in gardening and growing his own.
John applied for the job of Trainee Landscaper as he has always been an outdoorsy person, active and interested in gardening. Although he was still living at home in Wiltshire, he was prepared to relocate to find the right job. He'd applied for other landscaping jobs but either got no response or was told that prior experience was needed. When we met John we explained that at GreenArt we are more interested in the person, their attitude and values than their qualifications, as we train our staff both on the job and through formal courses to ensure they have the skills they need. We realised that It was going to be a big step for John to join GreenArt and move from his family and friends in Wiltshire.
From the outset, we were impressed with John's commitment to develop his career and could see how his experience, values and attention to detail gained from working at Waitrose could be of real value to the business. Although he had no direct landscaping experience, his enthusiasm for working outside on practical tasks was evident and he clearly took pride in the work.
John joined GreenArt in September 2016 and has been learning a wide range of skills both on the job and in training courses ever since. Working alongside an experienced Landscaper, he soon showed he could adapt to different working conditions and pick up new tasks quickly as well as taking full responsibility for jobs he was given.
"The team was very welcoming and supportive and I feel I have bedded in really quickly. I'm hoping to continue to grow my skills within the company and push myself to become an integral part of the team." he said.
Any advice to anyone else thinking of changing career and moving into Landscaping? "You need to love being outside in all weathers and not be afraid of hard work, but also be up for a laugh. It's a great feeling when you see how you can transform someone's garden and make them happy too."
If you know anyone like John who is looking to develop their career in landscaping, please let us know at info@greenart.co.uk.