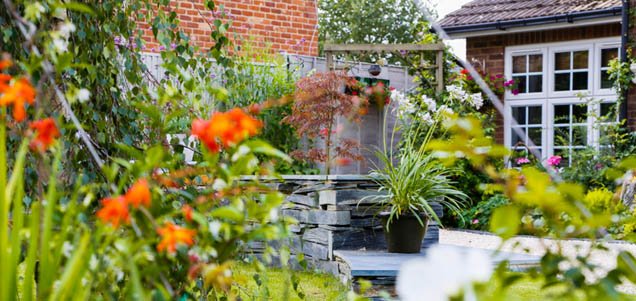 If you're looking for ideas on how to transform your garden to delight your friends and family and be an inspiration for fellow gardeners, then a great place to start is the National Gardens Scheme. It's a way for proud gardeners and garden owners to show their garden to the public for one or two days a year and at the same time raise money for charity.

Established in the 1920's as a way to fund District Nurses, the scheme has grown from modest beginnings when individuals opened up their gardens for  'a shilling a head', to now having raised over £45 million for nursing and caring charities. After the Second World War, the NHS took on the District Nursing Service but money was still needed to invest in training and care for retired nurses. The National Gardens Scheme (NGS) offered to donate funding to the National Trust to restore and preserve important gardens and in return the National Trust opened many of its most prestigious gardens for the NGS.
VISIT A LOCAL GARDEN
You may be familiar with The Yellow Book, which was synonymous with the NGS until 2015, and published details each year of every garden that was registered with the Scheme and open to the public. Today it's called Gardens to Visit. Alternatively, to find out which gardens near you are open as part of the scheme, just visit the NGS website and type in where and when you want to visit. It couldn't be easier.
Click here to find a local garden.
When you visit the garden, use the opportunity to take photos of the things you like or that inspire you and talk to the owners about what's easy to grow or why they chose a particular plant. You'll get some great tips and ideas and also a lot of local knowledge of what grows well in your local area.
HERE'S ONE WE DESIGNED EARLIER
One of the gardens featured in the The Yellow Book back in 2003 and 2004 was designed and built by George Smith, GreenArt's designer and MD. It took a couple of years to become well established, but by the time it was, its owner couldn't wait to show it off.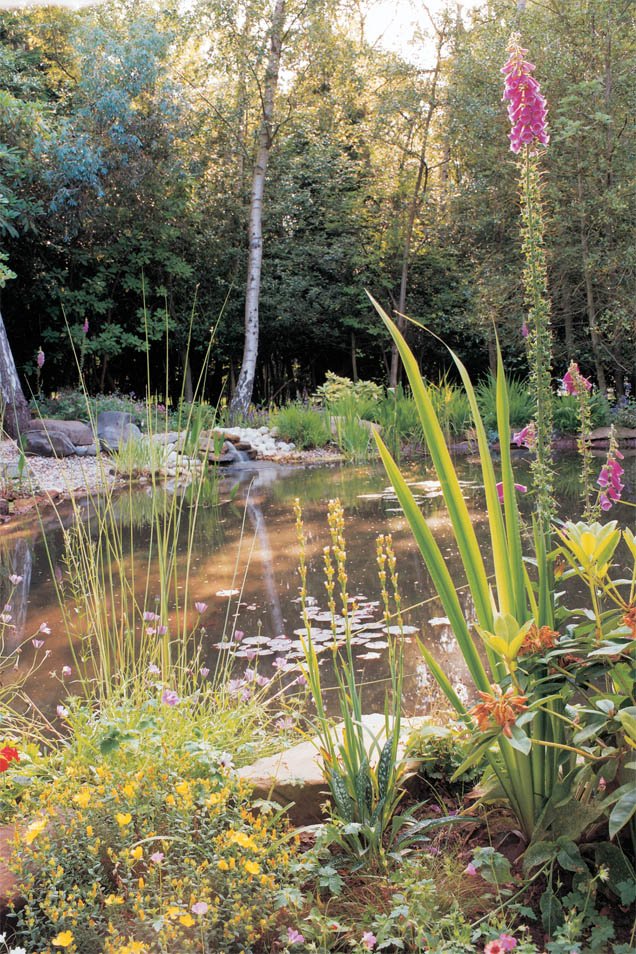 Across Oxfordshire, Buckinghamshire and Berkshire, there are some amazing gardens to visit that can provide the inspiration for what you might be able to achieve in your own garden. Here's a list of just a few of them along with the dates when they are open. In particular we'd recommend a visit to Waterperry Gardens near Wheatley to see their stunning display of Fritillaries on 16th and 17th April 2016.
WHERE
FEATURES
DATE
Ashbrook House
Blewbury
Oxfordshire
Where Kenneth Grahame read Wind in the Willows to local children
Sunday 10th April
Hilltop Cottage
Horton-cum-Studley
Oxfordshire
A large cottage garden, with productive vegetable plot, soft fruit and ornamentals
Sunday 17th April
Upper Green
Horton-cum-Studley
Oxfordshire
A mature half acre garden, gravel area, mixed borders, potager, bog area and pond. Spring colour from marsh marigolds, hellebores, euphorbias, fritillaries and other bulbs.
Sunday 17th April
Waterperry Gardens
Wheatley
Oxfordshire
8 acres of landscaped gardens including rose and formal knot garden, water lily canal, riverside walk and one of the country's finest purely herbaceous borders
Sunday 17th April
Rivendell
Amersham
Buckinghamshire
A south-facing garden with a raised woodland bed under mature trees, bog garden, gravel area with grasses and pond, fruit and vegetable garden, bug hotel, and herbaceous beds.
Sunday 10th April
Cliveden
Taplow
Buckinghamshire
Set high above the River Thames with a colourful planting scheme for the famous parterre, impressive floral displays, distinctive topiary and an outstanding sculpture collection
Sunday 23rd April
Malverleys
Newbury
Berkshire
10 acres of dynamic gardens which have been developed over the last 5 years to include magnificent mixed borders and a series of contrasting yew hedged rooms, hosting flame borders, a cool garden and a pond garden.
Sunday 24th April
Odney Club
Cookham
Berkshire
120 acre site beside the Thames with lovely riverside walks featuring magnificent wisteria, specimen trees, herbaceous borders, side gardens, spring bedding and an ornamental lake.
Sunday 24th April
Rooksnest
Lambourn Woodlands
Berkshire
10 acre exceptionally fine traditional English garden. Rose and herbaceous garden, pond garden, herb garden, vegetables and glasshouses.
Wed 27th April
NATIONAL GARDENING WEEK
If you want to take inspiration from some of the UK's truly great gardens, this month the National Trust is giving free entry to many of its gardens as part of National Gardening Week, which starts on Monday 11th April. On Friday 15th April entry will be free to a whole host of the nation's most cherished gardens including the RHS Garden at Wisley.
CREATE YOUR OWN SHOW GARDEN
If you've been inspired by visiting either a private garden, a stately home or even a show garden at one of the RHS or local Garden or Flower Shows, the thought of transforming your own garden can be quite daunting…
Time to call in the professionals!
Our clients, Linda and John, were so taken by GreenArt's Award-winning show garden, that they asked us to create a garden for them that would be a real show-stopper at their village's annual Open Gardens Day.
We designed a bespoke curved, stainless steel water feature and created a stunning sun terrace in their front garden surrounded by lush planting, a bog garden and a specimen weeping birch tree.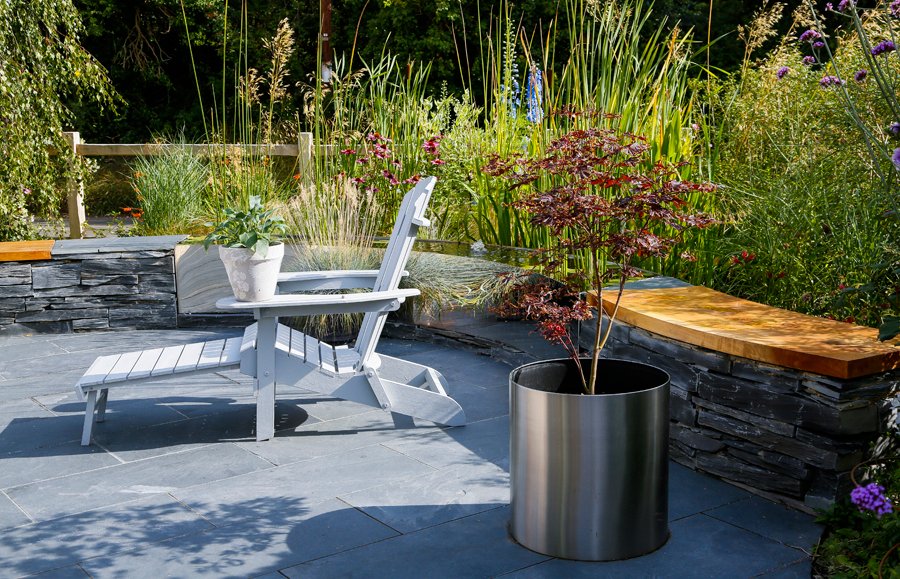 They were delighted with the results: "We were super impressed with GreenArt – the job was outstanding and all done on time with minimum disruption. Attention to detail and skills used were outstanding, not only planting but carpentry and stone masonry. Can't wait to see the garden mature."
WIN A FREE GARDEN DESIGN CONSULTATION
If you're looking to transform your garden into the garden of your dreams and you decide to visit open gardens for inspiration, we'd love to hear from you. Remember to take your camera or phone with you and then create a simple photo library on Instagram or Facebook with the photos you have taken that inspire you – alongside pictures of your own garden.
If you send the link to us at info@greenart.co.uk  we'll offer a free 20 minute telephone consultation with George to our five favourite local photographers. It could be just the help you need to kick start your garden plans and give you the confidence to try some of your more ambitious ideas.
So go and enjoy some lovely gardens, take loads of photographs, upload them to an online library and then email your contact details and library link to info@greenart.co.uk and George looks forward to discussing your exciting garden ideas and aspirations.