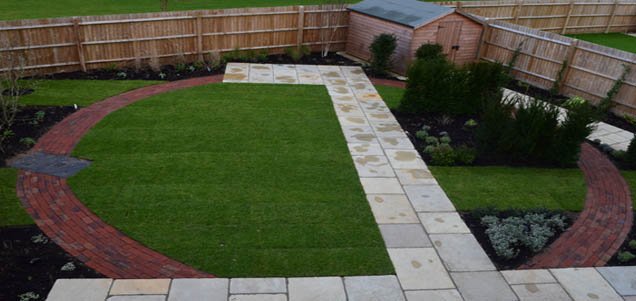 We transformed a blank canvas into a garden filled with interest, form and character.
When David and Catherine moved to Oxfordshire from Kent, they chose a new build as the place to enjoy their retirement. While their new home was hassle and maintenance-free, their new garden was a complete blank canvas of just a lawn and patio without any individual character or interest.
Having retired from a career as a Research Chemist in the pharmaceutical industry, David was able to pursue his interest in gardening and even completed a short course in garden design. With a few ideas of his own, he approached GreenArt to transform his garden within days of moving into the new house. The result was exactly what he had in mind.
"The challenge with a new build is to understand what the client really wants, when there is nothing in the garden to start with," explained designer and managing director, George Smith.
The starting point was to create a strong focus in the garden that would lead the eye towards the open countryside beyond, rather than towards other houses on the new development.
George achieved this by designing strong lines in the form of brick paths, encircling beds planted with low evergreen shrubs and trees of graduating heights for screening. Mature specimens and soft grasses were chosen for instant impact, interspersed with perennials for all-year round interest and colour.
Antique tumbled limestone was chosen for the large patio for eating and entertaining and also for the path traversing the lawn leading to a sunny terrace at the bottom of the garden.
After just three weeks, a new landscape had been created for David and Catherine to enjoy:

"Our garden project from initial design to construction and planting was undertaken in a most professional and friendly way. We are delighted with the final product."
For instant impact with minimum effort, contact Jo Smith on: info@greenart.co.uk.