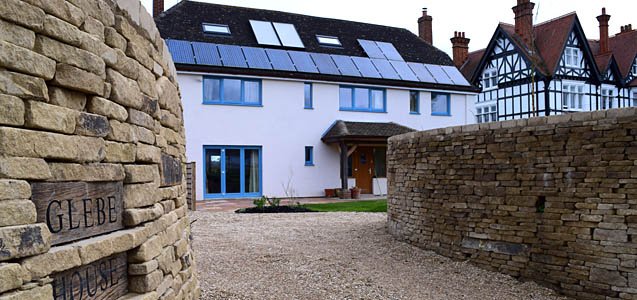 In November 2015, we started a project with some unusual challenges. Our client's recently refurbished energy-efficient Superhome was set back from and raised up above a busy road in central Wallingford.
The brief was to create a front garden with space for parking, a seating area, a swimming pond and wildlife pond, natural planting and wildflower lawn. The clients were very keen to use native species of plants to encourage wildlife, with a further emphasis on reducing road noise whilst affording privacy and security.
Our design met the brief and work started. However, the discovery of a Saxon burial ground on Day One meant a rapid redesign! In close consultation with the local archaeologist, we determined the extent of the burial ground and worked around it to enable the past to remain undisturbed.
Two monumental curved York stone-faced walls were constructed adjacent to the busy road, reaching nine feet in height, to form the boundary, with earth banks behind them to provide the sound barrier. The walls were built in concrete block and faced in York stone to give a dry-stone appearance, although the stone is actually mortared in place for strength and then the mortar raked back to give the appearance of dry-stone work. Planting holes allow climbers to root into the banks behind and ramble over the surface to soften the look of the stone.
A natural swimming pond was dug into the high bank on one side, which feeds a waterfall into a lower wildlife pond. Reeds and gravel naturally filter the water, which is then pumped back up to the top to fall into the swimming pond to continue the recycling of the water. Grassy banks planted with native species around the ponds slope down to a patio in front of the house and a gravel driveway runs between the sweeping walls down to the road.
The project took the GreenArt team of landscapers just over eight weeks to complete with Harry, Jason, Dan, Justin, Matt and Jamie all making their mark on the garden.
Only a stone's throw away, you'll find the original walls of the town of Wallingford, which have stood for hundreds of years. We hope our efforts have created a legacy for another few hundred years to come!
For beautiful walls and garden features that will last a lifetime, contact Jo Smith on: info@greenart.co.uk.